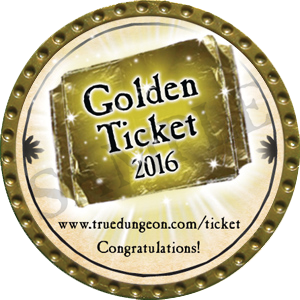 We are randomly inserting
40 special Golden Ticket tokens
into the 2016 token collection. If you have found one of these special tokens inside one of our 10-packs congratulations!
Please bring your Golden Ticket token to the True Dungeon event inside Exhibit Hall A Lucas Oil Stadium and present the token inside the appropriate event start Inn inside the storyscape at 5:00pm on Wednesday, August 3rd, 2016. You will then go to your private Coaching Room where your "event start time" will offically be either 5:00, 5:01, 5:02, 5:03 (depending on your adventure chosen at the link below).
You will also receive a limited edition, custom printed dice bag that will contain many hard-to-obtain 2016 tokens.
Please go to the official TD Forums and let your fellow Golden Ticket winners that you are ready for adventure! Teams are being formed now HERE.
Congratulations, again! Well done!